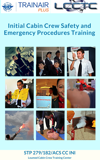 Initial Cabin Crew Safety and Emergency Procedures Training
279/182/ACS CC INI
Standardized Training Package
Goal
To provide trainees with knowledge, skills and attitudes necessary to competently carry out normal or abnormal flight safety procedures and handle emergency situations, in passenger cabin in accordance with Cabin Crew Training Manual with references ICAO Annex 6 and Doc 10002.
---
Learning Objectives
Upon successful completion of this course, trainees will get competencies to efficiently:
-Handle effects of an identified abnormal operation,
-Execute cabin safety procedures: in normal operations, emergency, and evacuations
-Handle cabin safety services for customers
-Apply medical emergency procedures
-Perform directions of applicable CRM procedures
-Perform directions of applicable procedures for DGs in passengers' cabin,
-Use the emergency and life-saving equipment
---
Primary Target Population
Personnel with pre-operational level in English language, both written and spoken. Reference: ICAO pre-operational recommended Level 2 in English level proficiency,
---
Entry Requirements
a) a minimum age requirement (at least 18 years old);
b) high school diploma or an equivalent diploma (10 years of schooling or more);
c) the ability to read, speak, write and understand English,
d) the ability to retrieve safety and emergency equipment and open and close overhead bins on the aircraft, from a standing position;
e) the ability and strength to operate equipment/systems, as applicable to the operator's procedures during normal, abnormal and emergency situations and to the aircraft type(s) to which the cabin crew member will be assigned duties;
f) being clear of a criminal record and,
g) pass a swim test, undergo a medical assessment.
Upcoming Sessions
| Dates | Location | Fee | |
| --- | --- | --- | --- |
| 19 Feb - 1 Mar, 2024 | Agadir, Morocco | | Registration |
No available sessions? Looking for a new date or location?
Express Your Interest
We will notify you as soon as a new session becomes available