Tanzania Civil Aviation Training Centre - Tanzania
Dar es Salam
,
United Republic of Tanzania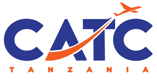 Description
The Civil Aviation Training Centre (CATC) is the training arm of Tanzania Civil Aviation Authority (TCAA) established on 10th June 1985 by the Government of United Republic of Tanzania.
The Centre is accredited by TCAA, ICAO TRAINAIR PLUS(full member), National Council for Technical Education (NACTE). Council member of African Aviation Training Organization (AATO) and member of Chartered Institute of Logistic and Transport ( CILT). CATC ISO 9001:2015 Certified.
---
Mission
To design, undertake and manage the training of technical and operational personnel in the aviation industry to international standards in a cost effective manner.
---
Vision
To become an industry owned and leading aviation training institution in Africa and beyond, dedicated to providing quality and cost-effective training.
Download Brochure
4 Upcoming Training Sessions | View All
Course
Dates & Location
Fee

11 - 15 Dec, 2023

Virtual

Registration

1 - 12 Apr, 2024

Dar es salaam, United Republic of Tanzania

Registration

20 - 27 May, 2024

Dar es Salam, United Republic of Tanzania

Registration

8 - 20 Sep, 2024

Dar es salaam, United Republic of Tanzania

Registration
Developed Courses
Details
Type:
Civil Aviation Authority
Legal Status:
Governmental
Course Languages:
English
Contact Info
Email:

catc@catc.ac.tz

Phone:

+255 22 2844437/9,2844443

Address:

P.O.BOX 18157
Dar es Salam, Dar es salaam, +255
United Republic of Tanzania