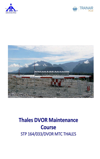 Thales DVOR Maintenance Course
164/033/DVOR MTC THALES
Standardized Training Package
Goal
To impart to the DVOR Maintenance Engineer, knowledge skill and attitude, necessary to perform preventive and corrective maintenance of THALES DVOR using maintenance schedule detailed in CNS Manual, as per procedures laid down in Original Equipment Manufacturer(OEM) technical manual.
---
Learning Objectives
On completion of this course the trainee will be able to :
Perform Daily maintenance
Perform Weekly maintenance
Perform Monthly maintenance
Perform Half Yearly maintenance
Perform Annual maintenance
Perform Ground adjustment during flight check
Identify faulty module
Replace faulty module
of THALES DVOR.
---
Structure
Module 0: Introduction
Module 1: OPERATE THALES DVOR MODULE 1
Module 2: PERFORM DAILY MAINTENANCE ON THALES DVOR MODULE 2
Module 3: PERFORM WEEKLY MAINTENANCE ON THALES DVOR MODULE 3
Module 4: PERFORM MONTHLY MAINTENANCE ON THALES DVOR MODULE 4
Module 5: PERFORM SIX MONTHLY MAINTENANCE ON THALES DVOR MODULE 5
Module 6: PERFORM ANNUAL MAINTENANCE ON THALES DVOR MODULE 6
Module 7: ORGANIZE FLIGHT CALIBRATION ON THALES DVOR MODULE 7
Module 8: PERFORM FAULT RECTIFICATION IN THALES DVOR MODULE 8
---
Primary Target Population
Personnel who are currently assigned or about to be assigned maintenance duties at the THALES DVOR SITE.
---
Entry Requirements
Bachelors Degree in Science (Physics & Mathematics)/ Bachelors Degree/Diploma Engineering (electronics & telecommunication/ Electrical & Electronics)
No available sessions? Looking for a new date or location?
Express Your Interest
We will notify you as soon as a new session becomes available