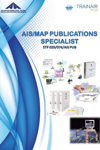 AIS/MAP Publications Specialist
029/074/AIS PUB
Standardized Training Package
Goal
The course will provide participants with the knowledge, skills and attitudes required to carry out the function of AIS/MAP publications specialist in an effective and efficient manner, in accordance with ICAO standards stipulated in Annex 15 (16th edition), Doc.10066, and Doc 8126.
---
Learning Objectives
After following this course, the trainees will gain the necessary Knowledge, Skills and Attitudes to
Process incoming data for publications
Compile the Aeronautical Information Publication (AIP)
Compile AIP Amendments
Compile AIP Supplements
Compile Aeronautical Information Circulars
Disseminate elements of Aeronautical Information Products
---
Primary Target Population
Personnel attached to AIS operational units who are experienced in AIS duties.
---
Entry Requirements
To follow the course, the nominee should
- Possess at least 3 years experience in AIS operations
- Be computer literate
- Have a working knowledge of English
Registration is full? Looking for new dates or location?
Express your interest here
We will notify you as soon as a new session becomes available